ZEAL: A MOD PROPERTIES GUIDING VALUE
---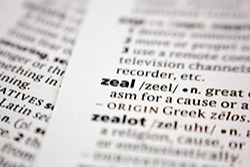 We have three guiding values as a team at MOD Properties and this is one of them. It's a funny word that most typically draws inquiring looks. We use this word internally to refer to our approach to working with our owners, tenants, and most importantly — each other. The word is defined as "great energy or enthusiasm in pursuit of a cause or an objective" and it represents what we strive for in every interaction.
From showing a property through taking rent, completing property inspections, preparing monthly financial statements, and along every step of the way, we challenge ourselves to apply an enthusiastic passion to our tasks. A greater passion for serving others, for excellence, and for providing kindness and respect to all peoples — these are the common traits amongst our team and what fuel our attitude towards our work, and thereby, the management services we provide. We're confident that is why owners who share these values remain lasting customers and are such great sources for referral.
As a small business local to the Metro Denver area, we've been lucky to be part of the dramatic growth in the rental market over the last few years. Other companies were also fortunate to take advantage of this market. We know our success is rooted in more than just a market boom though, and that our values will be what continues to drive the high quality of our business so that we remain a leader in the Colorado market for affordable, high-quality residential property management for many years to come.
Go Back