WE CAN DO HARD THINGS
---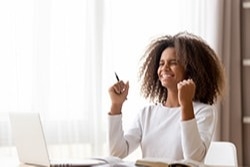 LIFE IS HARD. AND SOMETIMES, IT MAY SEEM TOO HARD.
It can be difficult to see your potential when something in front of us seems like too much of a challenge. We may avoid it altogether or start to think of why we might need to put it off; or maybe we panic under the weight of feeling incapable and unprepared. This self doubt limits our creativity, our motivation, our efficiency, — and ultimately, our ability to solve problems. Overcoming self doubt grants the opportunity to achieve success.
Easier said than done, right? Well that's okay — because we can do hard things! Here's the MOD Way of overcoming self-doubt:
MOD Properties intentionally builds its teams with distinct support at every level so that every member of our staff feels empowered to conquer challenges. We see value in the struggles because they are where we find the most growth. Where some companies may avoid looking at their weaknesses, we become fully transparent, because we strive to improve our procedures constantly in order to offer our owners the best management package possible.
Beyond supporting our MOD family internally, we know that eliminating self-doubt comes with the wisdom and humility to ask for help. Over the last 10+ years, we've worked diligently to create a strong network of field professionals including real estate agents/brokers, contractors, legislators, and more. These relationships allow us a firm foundation and the confidence that we have an expert to help if we encounter something seemingly impassable.
The best part? Because we can do hard things, you don't have to anymore! Maybe your property is facing a perpetual delinquency or your property has a hazardous maintenance issue. No matter the challenge, we can handle it.
Schedule your consultation today: https://calendly.com/jason-modproperties/meet?back=1&month=2021-02
Go Back