HOW DO I COORDINATE A MOVE-IN FOR A NEW TENANT?
---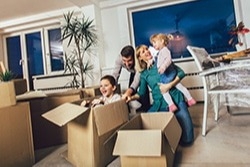 Summer is a busy time for re-leasing of properties but MOD Properties continues to make sure that we are attending to the details. Moving is a particularly important time for a new resident and a vulnerable one for investment property owners.
For our clients, MOD Properties makes sure that units are video-ed and photographed immediately before move-in to record the condition. We take around 300-500 photos for a 3 bed/2 bath single family home. Photos document everything – especially those items likely to be damaged or left dirty. Our move-out process mirrors this so as to have an accurate record of the after condition for security deposit accounting.
Residents are given detailed information on important items like mailbox locations, garage and door codes, and information on trash disposal. Our services are reviewed for them along with helpful tips to address common renting mistakes. All of our residents also receive a reusable tote bag with things that will make their move a little easier, such as toilet paper, trash bags, first aid supplies, snacks, and some fun goodies for pets and children. Our online payment and lockbox options make sure that we are able to coordinate move-ins when is most convenient for new residents.
These are just a few of the detailed processes that go into the final stages of a resident move-in. Missing a step can lead to liability down the road or can initiate a poor relationship with a new tenant that costs time AND money.
Want to learn more? 
Schedule your consultation now: https://calendly.com/jason-modproperties/meet
Go Back